One of Mission's recently completed projects, an interactive website using advanced WebGL technology, took home a Gold Addy Award in the "Online/Interactive Websites" category at the 45th Annual American Advertising Awards this year! Mission was also awarded Silver Addy's in Baltimore for our work with Wilson Sporting Goods Send It, the Waterfront Partnership Map, and Mission's very own website.
Mission then was awarded a Silver AND Gold Addy (best in show - interactive) in District 2 submissions, competing with agencies from Maryland, Pennsylvania, New York, Delaware, Virginia, and Washington, D.C.
After moving to the National level, NASA Home & City went on to be the only Baltimore entry awarded, taking home Silver amongst 40,000 other entries.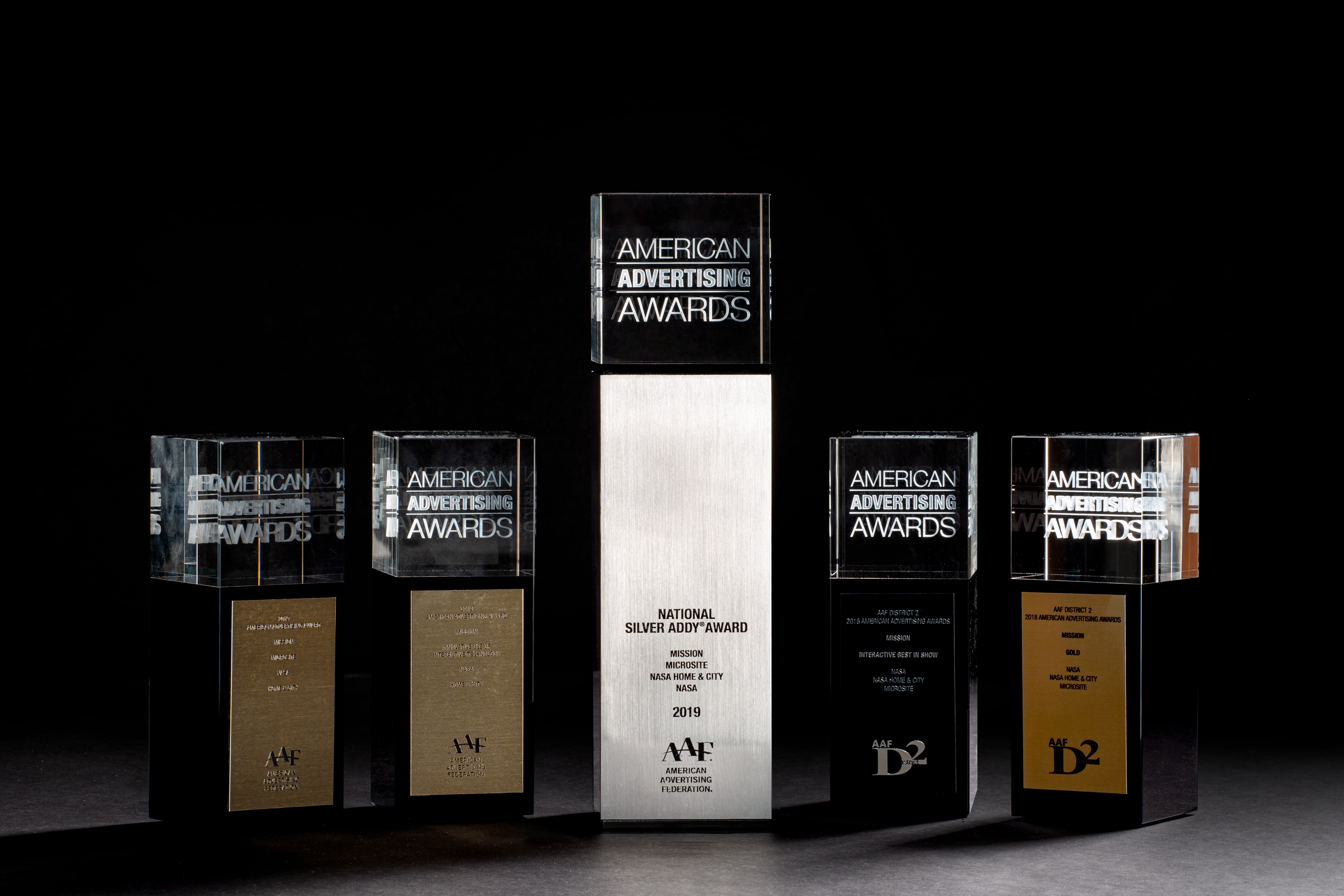 So what is NASA Home & CIty?
First and foremost, a project of this scale required a big and collaborative team. We were honored to work on this project at the guidance of NASA Space Technology Mission Directorate through support provided by the NIA. Lead agency, Woodpile Studios, provided keen content strategy and project management leadership. And frequent Mission collaborator Bully! Entertainment co-lead creative direction and the creation of the animated 3D worlds.
The NASA Home & City site features about 130 spinoff technologies in a virtual space, allowing users to tour multiple outdoor and indoor environments to discover everyday items that NASA developed, inspired, or improved.
This eye-opening interactive media presented Mission with a big challenge because the use of interactive 3D technology was previously only available in interactive games and apps.
We tackled the process of designing a site that would not only intrigue users, but inspire a younger audience to learn about the significant impact NASA makes on an individual's life. An interactive map located within the virtual Headquarters space (divvied up by state) educates users about the technology directly derived from NASA affecting us daily.
We're so proud of the amazing work accomplished by the team and encourage you to check out the NASA Home & City site.
To read more about our process, check out our blog post here!