I'm serious. I'm an intern. It's 12 weeks in and not a single soul has asked me to get them coffee.
I haven't had to make a single copy, play Quidditch against the other interns (kinda upset about that one), or other mundane intern-esque tasks.
I just had to Google "mundane intern tasks" because I don't even know what it's like to have mundane intern tasks to list them and emphasize my point.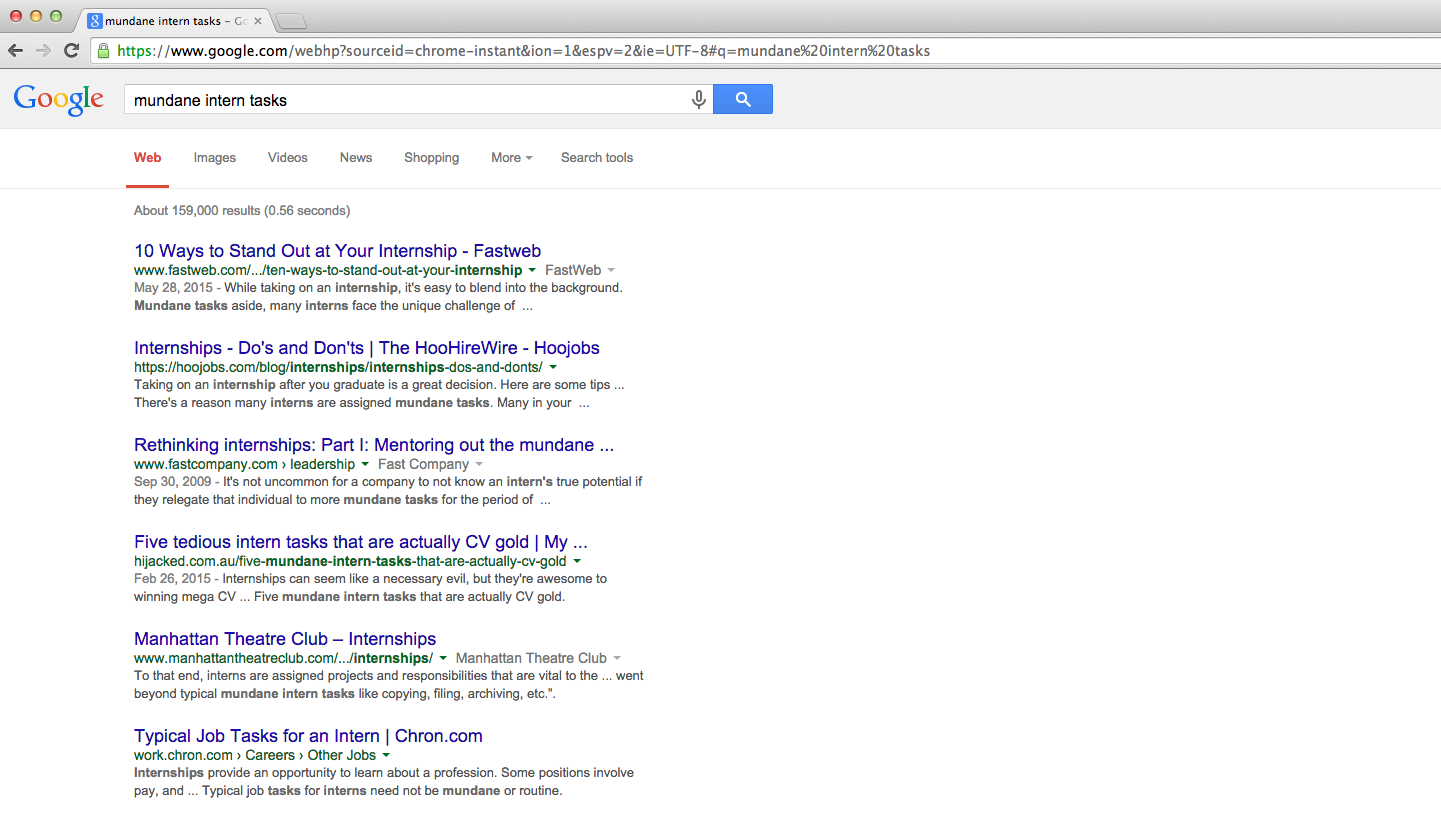 I know my time here would be educational, a little intimidating, and hopefully fun, but I had no idea that I would be immediately treated like I've been here forever and respected as both an employee and a peer by my much more educated and experienced supervisors.
When I first met Todd Harvey, he was giving a "Lunch & Learn" presentation at Stevenson about Mission to a room full of eager and ambitious design students who were hoping to get face time with the big-shot agency guy who was coming to the lecture (and it was required for most web design classes that we attend). But little did he know that a certain persistent and mildly aggressive Digital Marketing student would also be in the midst…yours truly.
Long story short, I waited for-ev-er to talk to Todd and introduce myself as his next Digital Marketing intern, which I'm sure he thought was a joke at the time. But this would then lead to some LinkedIn connections, a phone interview with the Digital Marketing "team," and finally an offer as the Digital Marketing Intern for Summer 2015.
At first, the culture of Mission was a bit of shock to me. I wasn't expecting people to be interested in anything about me, such as my major or career goals, let alone my name. I definitely wasn't expecting to see guys with bourbon labels on their shirts (Shaun), or dogs wandering around the office (Bodie/Colby/Roux/Abby/Belle…etc.), or a Principal/Digital Director wearing flip-flops (Eger). And when my boss (Nicole) asked me to get lunch AND coffee with her in the same week I thought I was gonna cry (I texted my mom about it as it happened).
Once I got over the initial awe of being treated like an equal team member, I started to work like one. In my first week I was already writing reports, doing research, and presenting my opinion. I was being seen and heard and taught all at the same time. Things I learned in the classroom were actually translating to real life situations. Sorry Design II professor, for not believing you when you told me that I would definitely need to know and apply color theory. Sorry CM223 professor, for betting you $5.00 I would never have to create and launch a Facebook campaign in 25 minutes.
What was even better than using what I learned in school, was learning things that I could never get in a classroom setting. Before my summer here, I had no idea the kinds of information you could pull from Google, Facebook, and Twitter analytics, and now I'm on my way to completing my Google AdWords and Analytics certifications. I've watched the process of gaining a new client, proposing a digital strategy, and implementing and monitoring it, all while reviewing and adjusting each day.
I've learned a lot about the overall environment of an agency and how not a single task (even if it's not created in Wrike) is done by one person or for one person. Everything has to be a team effort with the same goal to provide quality work for the client. Everything has to be Heart, Mind, and Gut.
The amount of random knowledge I've acquired from random all-staff emails is overwhelming and has helped me become MVP of my trivia team (aka "Who is Mary Katherine Goddard?").
In the closing weeks of my internship, with my senior year approaching, I can't help but be a little anxious about what's to come next. I feel a little spoiled that I had such a great experience here that I can't help but wonder if I'm due for a nightmarish experience with a boss like Miranda Priestly in The Devil Wears Prada. There's no way I'll have another boss with a dog-shaming day-by-day calendar on her desk, who can simultaneously laugh at each page while updating an entire digital campaign.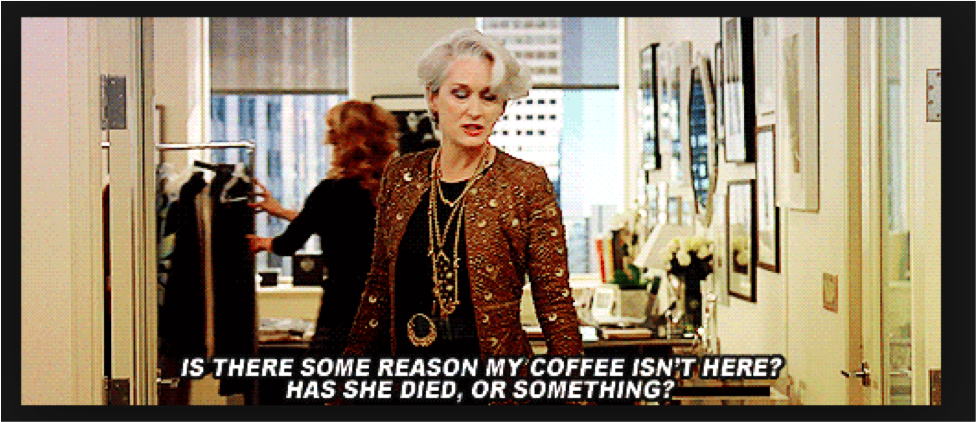 Photo Credit: http://thoughtcatalog.com/nico-lang/2013/07/these-25-meryl-streep-gifs-will-cure-what-ails-you/
I can't say I'm thrilled to go back to a classroom setting with treacherous group projects and sign-in sheets after being spoiled by the group dynamic at Mission. I might even miss the random bursts of music coming from downstairs and the traffic on 83 every morning.
Even if my summer here were spent as the stereotypical intern who went on coffee runs and ate her lunch in the bathroom, I wouldn't want to be anywhere else but Mission. I don't know that I'll be this fortunate enough to have another agency experience like I did this summer, but I hope other students (mostly me) get the opportunity to work with and learn from people like the Mission team as they take on agency internships and careers.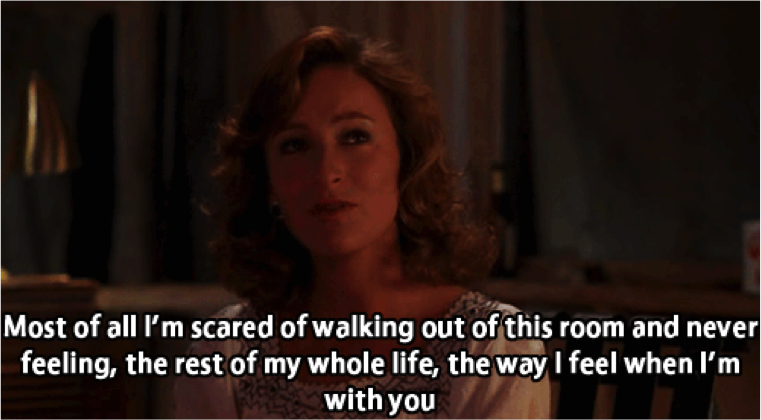 Photo Credit: http://giphy.com/gifs/movie-film-dirty-dancing-NfzLC8aRrCDx6