Remember life before we had Google Maps in our pockets? Way before smartphones (and slightly before MapQuest directions), we used… PAPER maps. And if you forgot to pack your trusty atlas, you'd be stuck with a map from a rest stop. One of those infinitely folded monstrosities that would inevitably block your view of the road.
OK—enough about road trip nightmares. Let's take a journey.
Beyond getting us from A to B, maps orient us in the here and now. They show us where we are and where we can go, but to what extent? At Mission, we know that maps are useful for more than just wayfinding. As a marketing tool, maps can tell stories, visualize data, and so much more. Here are four ways we reimagined maps for our clients.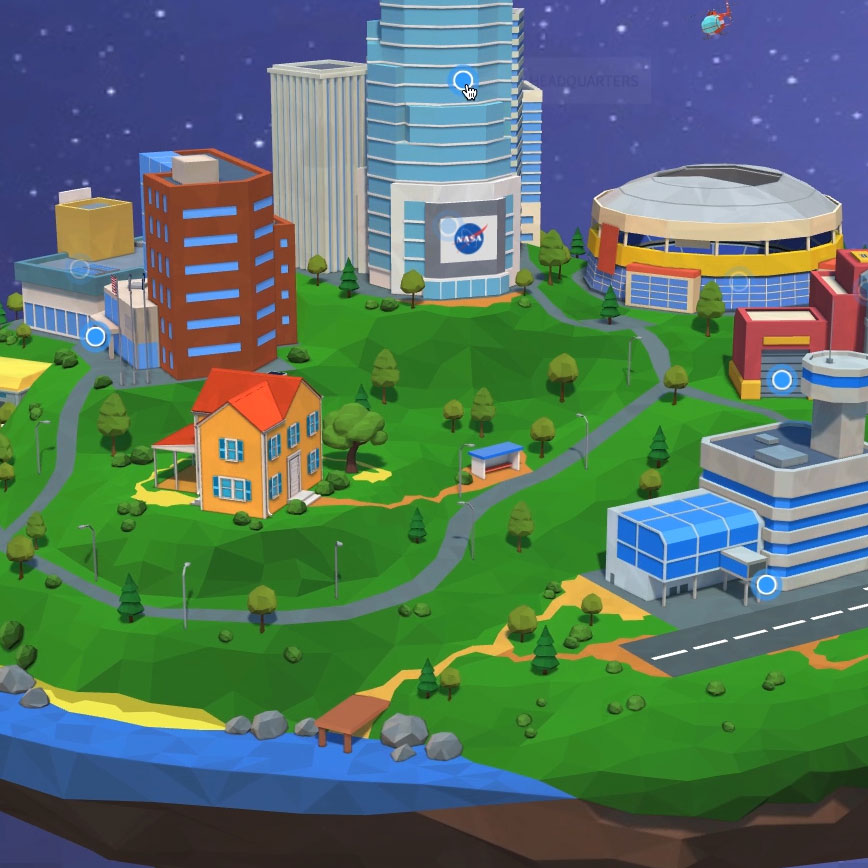 The ADDY-award winning NASA Home & City is a virtual space showcasing how technologies originally developed by NASA show up in everyday life. Commercial products and services developed from NASA technology or improved through NASA partnerships are called "spinoff" technologies and they're EVERYWHERE—toiletries, sports equipment, grocery stores, you name it.
Stop by the Headquarters building for a bonus. A traditional map of the U.S. helps legislators from each state identify NASA's relevance to their own constituents. It also gives residents some bragging rights (portable cordless vacuums are the new pride of Maryland—wahoo!)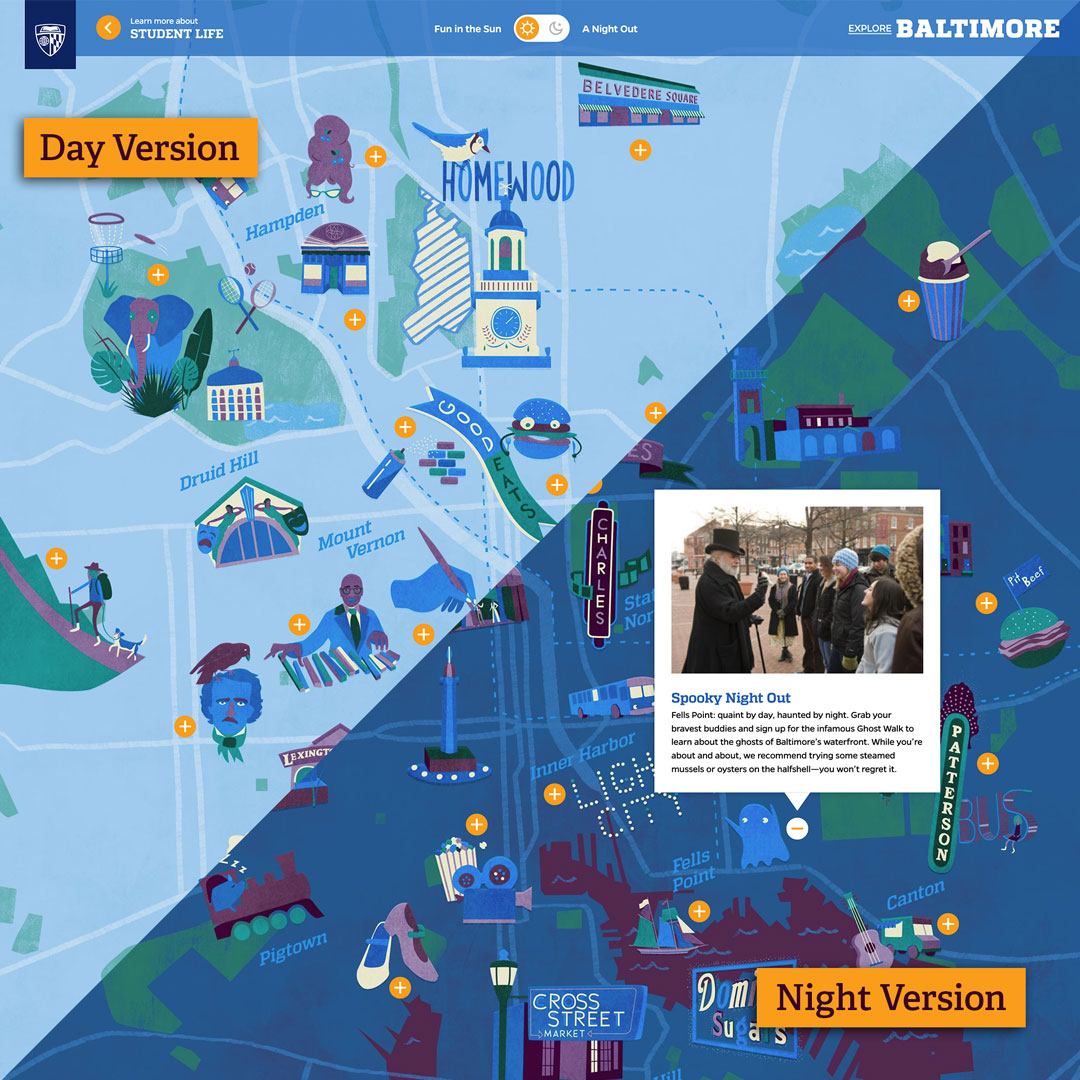 Johns Hopkins University's students come to Baltimore from all 50 U.S. states and 51 countries. So how do you help these students feel at home in our beloved Charm City? With a practical interactive map, of course. As an extension of Johns Hopkins Student Life, we built this map so students could explore museums, restaurants, outdoor activities, and more across their new hometown. Be sure to toggle between daytime and nighttime to tap into different points of interest. A printed version is also available for students and their families to use as a pocket guide.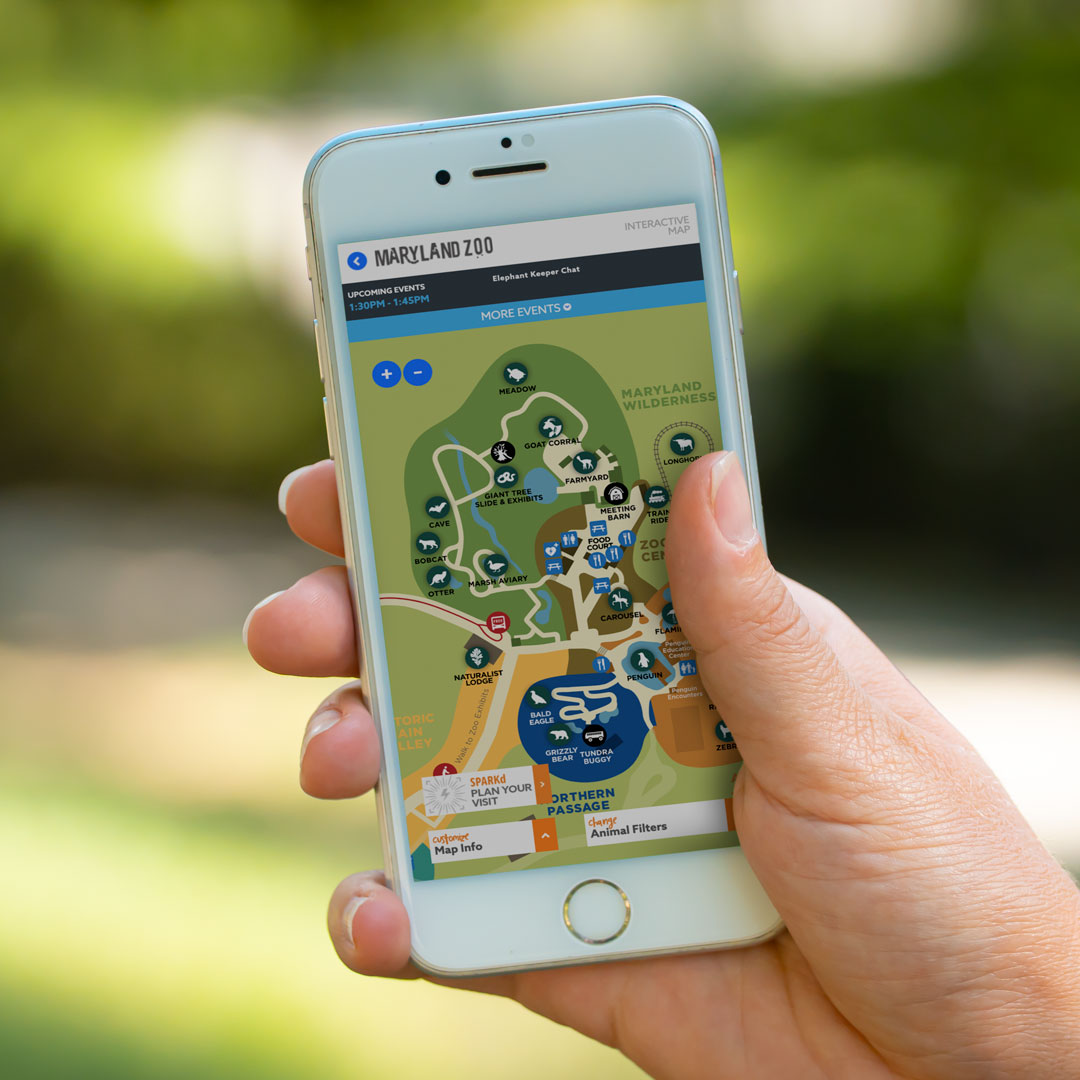 The Maryland Zoo's website was recently rated as one of the best online brand experiences in the country among zoos and aquariums. Beyond top-notch educational and conservation resources (and live cams of adorable animals), there's a customizable digital map you can use to plan a visit. Explore the Zoo's 135+ acres to learn about its animals and their conservation status.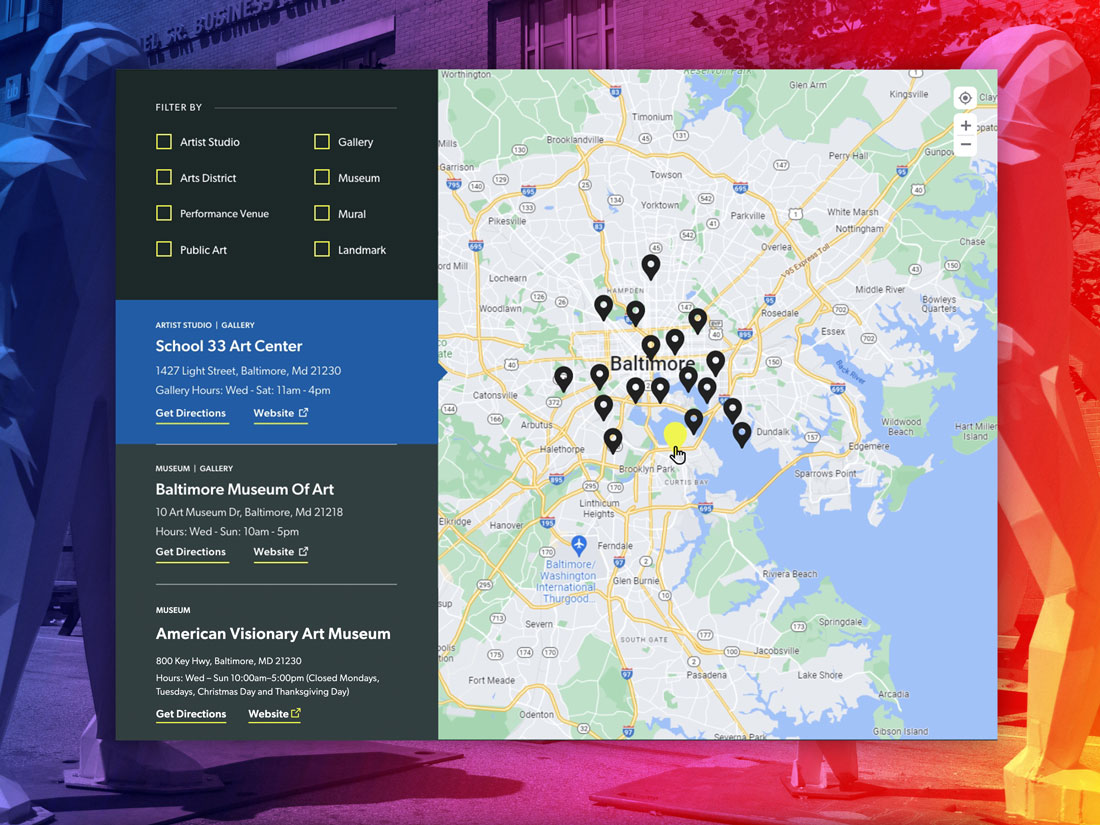 Between Baltimore's 60+ museums, countless galleries and studios, and 250+ murals, there's a lot of art to take in. Where do you even begin? BOPA (that's The Baltimore Office of Promotion & The Arts for non-locals) wanted their new site to be the go-to authority for all things art in Baltimore City. So we developed a custom map that visitors could filter based on their interests and plan their own art tour around the city. And with the option to submit locations, artists and gallery owners across the city can upload new spaces as they pop up. We can't wait to see this map grow and evolve alongside the city's art scene.
Does your brand have places to be and things to do? We can help. Maybe a map's not the right solution, but you can count on Mission to build immersive experiences that are unique to your brand. It's what we do.